milk river music & film
|
home




Thirteen

Catherine Hardwicke's new film Thirteen opened to excellent reviews. Here's a few from the national media:
Review: Searing, brilliant 'Thirteen'
New film shocking, but with a point
By Paul Clinton
CNN Reviewer
Friday, August 22, 2003
(CNN) -- The new film "Thirteen" offers a brilliant -- and uncompromising -- look at various issues involving teenage girls and the possible pitfalls of the rocky road through adolescence. First-time director Catherine Hardwicke has fashioned a provocative, hyperkinetic journey through the highs and lows of modern adolescence that is both harrowing and touching.
Thirteen has always been an age when establishing one's identity becomes paramount, and "Thirteen" tries to answer the question: What does it mean to be a 13-year-old girl right now, right here, in today's society?
In an effort to find the answers, the movie follows the transformation of Tracy (Evan Rachel Wood, in an award-worthy performance) as she evolves from a pigtailed young girl playing with Barbie dolls into an angst-ridden explorer in the social pressure cooker called junior high school.
When Tracy meets the beautiful and popular Evie Zamora (Nikki Reed, co-writer of the screenplay with Hardwicke), her world explodes in a rush towards premature adulthood that almost ruins her life. Both girls become victims of the media-fueled expectations of what it is to be cool, sexy and grown up: Body piercing, self-mutilation, petty crimes, casual sex and drug abuse are these girls' rights of passage as they careen towards the goal of being ultra-popular and totally hip.
Mothers and children
Tracy's unexpected metamorphosis leaves her hardworking single mother, Melanie, dumbfounded.
Played by Oscar winner Holly Hunter, Melanie is a recovering alcoholic -- with a recovering drug addict boyfriend (played by Jeremy Sisto) -- who runs a beauty salon out of her home. She's barely making ends meet, and Tracy's behavior almost pushes her over the edge. Hunter once again proves she's a remarkable actress, and this is one of her best roles in years.
This exceptional film goes much deeper than your average teenage angst flick. The raw emotions displayed here are almost palpable as these three actresses rip their characters apart.
Hardwicke uses handheld cameras and harsh natural light, to the extent that the film almost feels like a documentary. The movie argues that while there have always been teenagers at the extreme ends of any given culture, now the extremes have become the norm. In our relentless world of consumerism, "Girl Culture" has taken hold -- a world of fast living and confusion fueled by anger, fear and rebellion.
As the co-writer of the script, Reed lived through many of the events seen on the screen, and the result is an unvarnished portrait of teenage life.
Food for thought -- and discussion
Ironically, with an R rating, the film cannot be seen (without an adult) by the very age group depicted in the film -- but it's well worth seeing, both for parents and their children.
Sure, any parents viewing this film might be tempted to lock their daughters in the house until the girls reach 18. On the other hand, a parent viewing this uncompromising movie with his or her daughter could find that it opens all kinds of avenues of discussion.
"Thirteen" is a provocative peek into the raw world of modern urban adolescence -- but it's a peek with lots of thought, and some fine filmmaking, behind it.
"Thirteen" opened Wednesday in limited release in New York City and Los Angeles. It will roll out to the rest of the country in the next few weeks. The film is rated R.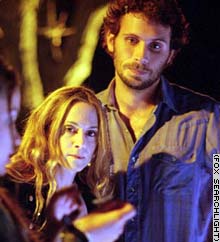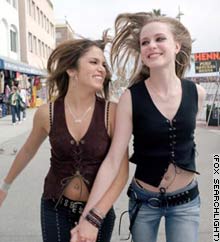 Holly Hunter plays Wood's mother, and Jeremy Sisto Nikki Reed and Evan Rachel Wood in "Thirteen."
is her well-meaning but drug-addicted boyfriend.
Trading Barbie for Drugs, Sex and Halter Tops
By ELVIS MITCHELL
The New York Times
The panic in the eyes of Tracy (Evan Rachel Wood), the barely teenage protagonist of "Thirteen," will stay with you for a very long time. Both her fear and pleasure — since they are inextricably entwined — are almost always visible, especially in a harrowing scene about loss of control that is a pinnacle of performance. Tracy and her new best friend, Evie (Nikki Reed), try to lure a 20-something neighbor (Kip Pardue) into a threesome. With a hollow fervor Tracy goes through the motions of what she thinks she should be doing, imitating Evie's lead. Tracy's ferocious appetite gives this story of a 13-year-old girl's extended period of debauchery and misery a magnetic volatility; she moves through this mess slightly startled, as if she were trapped in a waking nightmare.
"Thirteen," which opens today in New York and Los Angeles, treats Tracy's behavior as a fever dream, something viral. This disease eating up her empathy and decency is what she picked up from the effortlessly cool Evie, also 13, who crashes into Tracy's life and plucks her from an existence of more age-appropriate fixations, like Barbie dolls. Evie, with the physical confidence of a much older girl, knows exactly how to devastate Tracy; she breezily drops hints that she thinks her new friend is immature. Essentially, it's the way cult leaders work on a psychological Achilles' heel. And as Evie plies her skills on the desperate and impressionable Tracy, one thing comes to mind: Evie must have experienced this same tragedy, and is simply spreading the contagion to the next victim in the biosphere.
So anxious to be grown up we can almost smell it in her sweat, Tracy adopts the new life of makeup, halter tops and shoplifting, because she feels it adds years to her and provides an immediate adrenaline spike she gets hooked on. As Evie takes Tracy under her broken wing to remake her, we feel we're watching Tracy undergo the initiations of a new tribe. (The movie could be called "Prey" because it's the way Evie — who lives nearly unsupervised with a haggard, alcoholic mother played by the normally healthy and strapping Deborah Kara Unger — seems to view Tracy.)
The closest "Thirteen" comes to a narrative is in following its young central figure straying into sex, drugs and alienation and her sudden detachment from her struggling single mother, Melanie (Holly Hunter). The movie has the ebb and flow that come from material structured as a series of anecdotes — it doesn't build, and sometime feels as cluttered as a 13-year-old's bedroom. But that may be a byproduct of Catharine Hardwicke, making her directorial debut, working to layer incidents that are as far as possible from the weary set of clichés that inform pictures about teenagers. Usually, the protagonist is the bystander — in "Thirteen," she's the fuse.
Ms. Hardwicke works from a screenplay she wrote with Ms. Reed, shaped around elements from Ms. Reed's own life. Tracy is acting out a kind of rebellion that doesn't make any sense to her mother. Painfully, it doesn't really seem to make any sense to Tracy, either, but she feels an immediate kinship with Evie, whose life is spinning spectacularly out of control. It's the drop that so thrills Tracy — the sensation of doing whatever she pleases that both stokes and horrifies her. What we recognize from the stricken look in Melanie's face is the same panic in the eyes — it's something mother and daughter share, and Ms. Hunter wills this spiritual matchup into existence.
Melanie recognizes what appears to be her child, but doesn't have the tools to get through to her. Tracy is all vivacity looking for boundaries, and Melanie can't provide her daughter with any. Their relationship has been more about acting as friends than parent and offspring, and Melanie's boyfriend (Jeremy Sisto) doesn't have the authority to change anything and doesn't want it.
Evie exerts more control than anyone else in the movie because she'll do and say whatever it takes to get what she wants. She's a master, a child expert of ratiocination.
Tracy, in contrast, vibrates those flashes of rage that erupt from the hearts of young girls growing up without a father in the house — a boiling mélange of anger and frustration born of what feels like rejection. It's this startlingly realized emotional detail that Ms. Wood is spectacularly equipped to register, a contrast with the serenity she showed in last summer's "Simone" and closer to the thin-skinned dreaminess she evinced in the television series "Once and Again," where she played Shane West's little sister. (That show was a gold mine of youthful acting talent; it also featured standout work by Julia Whelan.)
Ms. Wood's performance bounces with mood swings from anxiety to exhilaration in a movie with moments so realistically painted that your eyes will sting from the fumes. Ms. Hardwicke's directing approach echoes the chemical surges of its little-girl star, bounding and lunging as if it were in the back seat of a car hurtling down bumpy roads without a seat belt. Working with the cinematographer Elliot Davis, Ms. Hardwicke obviously chose this unsettled style to evoke Tracy's state of mind. (Some families may see discomforting similarities between their own lives and those depicted in "Thirteen.")
The movie flutters above the fine line between drama and exploitation, as did a 2000 film by David D. Williams with a similar theme and also called "Thirteen." A preening vulnerability from teenage actresses is often visible in these films about young girls adrift and heartbreakingly alone even when they travel in a group. In Lawrence Ah Mon's gripping 2000 Hong Kong drama "Spacked Out," the girls still wear Hello Kitty backpacks as they swing their hips with a bravura picked up from music videos and commercials. This demeanor is often called growing up too fast, but it's obvious these girls haven't grown up at all; it's why they cling so tenaciously to tantrums.
Yet amazingly, these movies about teenage girls, confused and rebellious with no focus, give young actresses opportunities to unleash their talents. And in the case of "Thirteen," Evan Rachel Wood's claims our attention.
Director: 'Thirteen' is 'one kid's story'
Movie deals with advertising, peer pressure and consumer culture
By Todd Leopold
CNN
Monday, August 25, 2003
(CNN) -- Catherine Hardwicke wants to make one thing clear: "Thirteen" is not meant to chronicle the lives of all 13-year-olds.
"Somebody on CNN said, 'This is not how all teenagers are.' [But] we never said that," the first-time director says in a phone interview from New York. "You don't watch 'A Beautiful Mind' and say, 'This is how every mathematician is.' That's one person's story, and this is one kid's story."
Nevertheless, the movie is quite a story, and it's caused some controversy.
"Thirteen" is about Tracy (Evan Rachel Wood), a girl who goes from being a Barbie- and teddy bear-loving child to sex and drugs almost overnight, partly thanks to the peer pressure of the popular Evie (Nikki Reed).
Reed, now 15, co-wrote the script with Hardwicke, a longtime production designer for directors such as David O. Russell ("Three Kings") and Cameron Crowe ("Vanilla Sky").
CNN.com spoke with Hardwicke about her film and its inspirations.
CNN: Are the pressures on 13-year-old girls harder now?
HARDWICKE: [One reason] I was interested in making this movie is that there are a lot of crazy pressures and kind of confusing messages that seem to come at kids at an alarming rate [nowadays].
So many images are saying to girls, show a lot of skin and look gorgeous and sexy. And yet when people see our movie, they say, "Why are these kids thinking about sex? This is outrageous, that 12-year-olds think about sex!" Well, how could they not? Those are the kinds of things that we praise and put on the cover of every magazine.
'Kids have to experiment a little'
It's tough and it's confusing, and people are shocked that kids are acting this way. But, on the other hand, you know what's really funny? We've had screenings in different cities around the country, and college kids come. And 21-, 22-year-old kids will raise their hands and say, "I am so startled! I think this is outrageous! This cannot be the way 13-year-olds are acting!"
So I asked one guy, who was really getting outraged in Chicago, "How old were you the first time you had a sexual experience or a drug experience?" The guy looked at me and goes, "I hate to admit it, but I was 11 when I first had sex." People kind of have a short-term or a revisionist memory about what they did [as adolescents].
Every kid has to go through this. ... Kids have to experiment a little or figure out where they belong. It's just that we hope that kids don't go too far, places they can't turn back, getting AIDS or pregnant or arrested or killed.
CNN: Our consumer culture glorifies skinny, beautiful bodies; it glorifies things to put on those bodies. If you wonder why someone would grow up into a woman -- or a man, for that matter -- obsessed with material goods, well, it's all there when you're a kid.
HARDWICKE: There's that interesting book called "Branded." It has a lot of great points. This generation, from the time they were born, there was Baby Gap, and they wear Nikes from 1 year old. So a lot of kids have had a fully branded life, and there's no other life except branding and consumer culture. ...
Whenever you ask kids what they want to do, they say, "Let's go shopping." That was the first thing they could think of to do.
Going for 'the real stuff'
CNN: How did the script come about?
HARDWICKE: I've known [Nikki] since she was 5 years old. ... When her dad and I broke up four years later, I decided I was going to remain friends with her and her brother.
One day I'm over [at her house], and I see a new Nikki, and she is like Miss Glamourpuss Super Hottie Supermodel girl -- but angry.
She'd wake up at 4:30 in the morning and do like 2 1/2 hours of hair and makeup before seventh grade. And she was damn good at it, too.
In a weird way, I was kind of shocked -- Nikki's not reading books, but she's doing makeup for 2 1/2 hours. But then I realized every single magazine is telling her to do that, and she's doing exactly what we tell them, exactly what we want girls to do, or what we say we want girls to do. So why should I even be surprised about it?
So my idea was to find some creative fun stuff [for her]. ... She was interested in acting, so we started on the acting thing, finding a coach for her, reading serious books like Uta Hagen and [about] the [Sanford] Meisner technique.
She got the concepts instantly and really had this intuitive grasp for it. I thought she would be a really great actress.
I [told her], "You've got to write your own material." We thought we'd write a teen comedy, but ... as we started to see Nikki open up a little bit more, and we started talking about more stuff that she and her friends would be going through -- and I'd watch her mom and other moms dealing with their kids -- it seemed like to us that the real stuff would be more interesting than anything we could make up. So we just went for the real stuff.