milk river music & film
|
home




Lyle Lovett

A collection of interviews, reviews and articles with The Man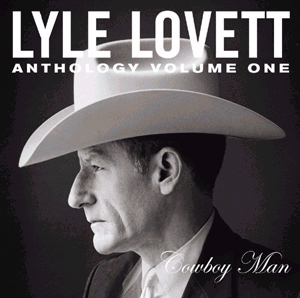 Lyle Lovett released a new album September 30th. Here's the word from Tim Hinkle who keeps the closest track of such goings-on.
"Lyle Lovett's first studio album of original songs since The Road to Ensenada in 1996 is scheduled to be released on 30 September 2003. It will be released on the Lost Highway Records label and will mark Lyle's first album release for that label and not for Curb. The title of the album is said to be My Baby Don't Tolerate; this is also the title of the song planned for release as the first single from the album. Lyle has been playing this song and a couple others possibly on this new album during his current summer tour. Lyle will be playing Carnegie Hall on 6 November 2003."
One More Time
BY JIM CALIGIURI
The Austin Chronicle, March 21, 2003
Lyle Lovett and Evan Smith: The SXSW Interview
Austin Convention Center, Saturday, March 15 Sure the sun was shining and there were hundreds of bands playing around town on Saturday afternoon, but that didn't stop several hundred people from showing up to hear a conversation with Lyle Lovett. With Texas Monthly Editor Evan Smith acting as interrogator (isn't there anyone besides Smith that knows how to conduct an interview in this town?), Lovett displayed his wit and crooked smile in an hour that was breezy and cheerful. Smith got Lovett to talk about his beginnings as a performer at Texas A&M on Robert Earl Keen's front porch, his early days in Nashville, and playing Houston's Anderson Fair where he met two of his seminal influences, Nanci Griffith and Eric Taylor. Lovett skirted the issue of what really happened when he got stomped by a bull on the family farm last year, saying he didn't remember even when pressed. They discussed acting, working with Robert Altman, and Lovett's new Smile, a collection of songs from various films. In response to the hot news topic of the day, the anti-war comments of Natalie Maines, Lovett had a curious take. "There are appropriate times for appropriate people who are groundbreaking and have important voices, Bob Dylan and Joan Baez, for example, to speak. But just because you have the forum doesn't mean you always should use it." The biggest news of the day was that the lanky Texan is set to release an album of new songs this September, his first new album in nearly seven years.
Phases and Stages
BY JIM CALIGIURI
Austin Chronicle, December 28, 2001
Lyle Lovett
Anthology Volume One: Cowboy Man (Curb/MCA) While not really a best-of, this collection gives a good overview of Lyle Lovett's first three albums. Those were the days when Lovett was working with producer Tony Brown and was considered, or at least being marketed, as a country artist of a different stripe. Two new songs, "The Truck Song" and "San Antonio Girl," are both nice little slices of country swing, but neither make up for the fact that the last time we had a proper album of new music from Lovett was 1996.
InfoPlease
Lyle Lovett
musician, singer, songwriter, actor
Born: 11/1/57
Birthplace: Klein, Texas
Although some may know him best for his tall mop of hair and his short-lived marriage to actress Julia Roberts (1993–95), Lyle Lovett is an award-winning musician with a successful acting career. His music has earned him four Grammy Awards, most notably the 1990 Grammy for Best Male Country Vocal Performance for Lyle Lovett and His Large Band, as well as 1995's Best Pop Vocal Collaboration for "Funny How Time Slips Away," which he recorded with soul legend Al Green. Lovett branched out into acting, appearing in Robert Altman films The Player (1992), Short Cuts (1993), Ready-to-Wear (Pret-a-Porter) (1994), and Cookie's Fortune (1999). Following on the heels of his album The Road to Ensenada (1997), for which he received a Grammy Award for Best Country Album, Lovett appeared in the feature film The Opposite of Sex (1998).
LYLE LOVETT
His First Love Was Motorcycling
By Maurine Karagianis
Islandnet.com
You don't have to talk with Lyle Lovett for more than five minutes before motorcycling comes into the conversation. Motorcycling and music, the two seem to be woven together to form the fabric that is Lyle Lovett.
As a young boy, growing up on a farm just outside of Houston, Texas, Lyle Lovett began to develop the two passions that are such a big part of who he is today. An only child, Lyle had the time to while away the hours on his guitar. But, Lyle's first love was motorcycling.
The Cycle Shack, where Lyle worked during his teens, is still the place he goes to buy motorcycles. Shown here are (from left to right) Owner Richard Sanders (he's still there!), Don Schultz-head of service dept. and Husqvarna race team mechanic, Lyle, and friend & fellow racer Robert Tuggle
"I managed to badger my folks enough to finally let me get a Honda, a Honda 50! I was 11 when I got that." Lyle's consummate passion for off-road riding was born. "Growing up, it was all off-road riding. I never rode on a street at all. Then when I was 14, I managed to get a job in a motorcycle shop in Houston called Cycle Shack. It was mostly an off-road bike shop. We sold Husqvarnas and Pentons, Sachs bikes and Maico's. The one street bike we sold was BMW. I worked there from when I was 14 until I was 17, all through high school. It was a great job. If you rode, it was one of the
coolest shops in town. To have a job there was quite a big deal, really. I rode enduros and motocross - strictly off-road until I went to college." For a time, when he was 15, Lyle wanted to own a motorcycle shop.
Lyle enjoyed competing at local events around the state. "I started out riding amateur class and by the end I was up in the expert class. It was two or three Sundays a month. It was pretty involved. It was pretty consuming, working in the bike shop, working on the bike. My dad was particular about letting me race in the first place and he told me I had to be in really good shape. In order to have his permission I had to be on the track team in high school. My dad got involved when I got my first bike and he started riding because I was interested in it. And we still ride together today. At one point my dad, my mom and I, all three of us would go up and ride in the national forests [in Texas]. Taken in 1972 at Clover Field, Lyles father Bill Lovett, poses for a photo just before the one and only motocross competition he ever rode in"That's a great thing about it (riding) - you can do it with your family. It's such a nice social activity. I've always enjoyed the people so much. People who ride are so passionate about riding. They love it so much, they're just a pleasure to talk to. Anytime you're talking to people who like something, it's just such a positive experience. That's what I enjoy about visiting bike shops as well. For people who work in motorcycle shops, its not just a job to them. They love motorcycles. They love to talk to you about your bike or their bike or riding. It's a nice experience."
After high school, Lyle went off to college and motorcycling slipped into the background in favour of his next big love, music. Riding was still very much in the back of his mind though.
"I never got rid of my old bikes. We still had a couple of old Yamaha enduro bikes we kept around the house. I got a bike last year and it really got me interested in riding again. I got a dirt bike first." Lyle owns several bikes now, both off- and on-road. Mostly he prefers a BMW for street riding but his love of off-road is ever-present. Although Lyle would love to ride every day if he could, his busy schedule doesn't allow it.
"I do ride the occasional cross-country race, hare scrambles or up into the national forest land we have around here. It's a lot of fun!" At Clover Field motocross track in Pearland Texas 1972-73, when he wasn't pushing for the win, Lyle could often be found tinkering on his bike between heats. During his recent cross Canada concert tour, Lyle took time out to ride.
"It's the first time that I've every been able to do anything like that and it was great fun. We had a little more time off on this tour because of the distances we were travelling. And so it was great to be able to go riding.
I've never taken my bikes with me."
Lyle had a chance to ride through the courtesy of BMW Canada. "The people we met [in Canada] were great; it was great to get to know them; the riding was so great in Vancouver. We went out on the Sea to Sky Highway. Gosh! It was just so beautiful!" Lyle likes all motorcycles. Having worked in a BMW shop as a kid, Lyle says, "I have sort of an emotional attachment to them. Remembering the old toaster tankers on the showroom floor where I used to work, that's what really made me interested in BMW's. Now that I have one, the technology is wonderful and they're just so great to ride."
Lyle's passion for motorcycling is matched only by his music.
"My music is all about communication. Most of the songs I write are to somebody. There's always one person that would understand a song better than anybody else. If it's a good enough song it can work in a general way, but the songs I write are directed specifically at somebody. So it's really a way to talk to somebody - and I think songs have the added emotional impact of the music to go with what the words are saying, which can be a very powerful thing. So I usually make up a song when I have something to say to somebody.
"Writing is certainly the most difficult part of what I do. Not necessarily labour-intensive. If you have a really good idea, a song will sometimes practically write itself. It's having a legitimately good idea that's the hard part. I've never approached writing just to write. I've waited until I've felt like I just had to write something."
Lyle and BMW's representative Uli Kallenbach take a break on the Sea to Sky route north of Vancouver during Lyles recent visit to Canada. With a mix of jazz, bluegrass and blues, Lyle creates his own music in his own way. Lyle freely talks about this freedom of expression. "I have been really lucky to work with a record company that supports my doing whatever I can think of. I feel like it's a real luxury. I've been able to record whatever I want. I pick out the songs that go on the album myself and I've been able to record anything I make up.
Musically, I try to go in a direction with a particular idea that best communicates the song. I'm not really thinking it has to be a certain kind of style - I've been afforded the luxury of working how I want to. I make up songs in the style I like. It's as simple as that.
"People don't listen to only one kind of music. So I feel pretty safe in doing the kinds of music I do. I feel confident that it's the thing for me to do. I don't think it scares people off. Musically speaking, whatever best communicates the idea in your song, it makes your choices for you. That's what I concentrate on: what the song has to say. A song like "She's No Lady" had to be a blues song.
And so, Lyle's music is for everyone. On celebrity-hood, Lyle is very demure. "I love getting to play and sing. The emotional feeling, playing and singing onstage, is really similar to riding! It's the only other thing that gives me the same kind of feeling. Especially like in a competition. Emotionally, it's gratifying in the same way. You're testing your limits."
And about fame, Lyle is very practical. "Some things you have control over and some things you don't. When you're engaged in an activity, it's so consuming, playing and singing and writing songs and recording and touring and all that - your day is filled with things you have to do. And so when you're in the middle of doing that, you don't really take the time look at the perception of it. You just concentrate on what you're doing. "One of the exciting things for me in getting to do this is to meet and work with people that I've admired and been a fan of. I think one of the things that's made it so easy to get involved in riding again is, it's such a similar experience. Working in the world of music, I get to be with people that do something they love to do. I feel so lucky to be able to do what I love to do.
"I would play music for fun, like I ride for fun, if I couldn't do it for a living!"
Lyle Lovett at Tanglewood
By Seth Rogovoy
Berkshire Eagle, August 23, 2000
(LENOX, Mass., Aug. 22, 2000) - On a chilly August night, Lyle Lovett and His Large Band entertained a crowd of devotees with the pinpoint skill and intimate response of a bar band at Tanglewood.
Maybe it was the fact that the Shed was half empty on Monday night that accounted for Lovett's warmth and rapport with the audience. Whatever the case, the Texas singer-songwriter was downright charming and gregarious compared with past appearances, when he tended to be aloof and let his music do the talking.
Instead, after an opening suite of tunes, Lovett grabbed the audience's focus with between-song patter and stories about what inspired his songs, and thus brought a coffeehouse-type feel to Tanglewood's only Popular Artist concert of the season.
Lovett was his typically wry self, singing love songs to his pickup truck and his hat ("Where I come from you can sing love songs to your truck and your hat and it's not considered cheating," he explained), portraying himself as the sad-sack loser and other characters as pathetic misfits.
For the most part, he did so without malice and with genuine tenderness and understanding. There was also always a subtle undercurrent of parody to everything Lovett sang; in the country idiom he draws upon, sad songs about losers who get dumped on are a dime a dozen. That Lovett writes new ones that work straight or with a sly wink of an eye is just his special talent. Lovett deadpanned his way through new songs and old favorites like "I've Been to Memphis" and "If I Had a Boat." The latter was brought to a sudden halt midway through when Lovett stopped singing and signaled the band to stop playing. He explained that he'd swallowed a bug, and if you didn't know better you'd think he'd made it up just for the laugh.
"You're Not From Texas" explored the lone star state of mind, and "She's No Lady, She's My Wife" took on added resonance in light of Lovett's famed celebrity marriage and divorce with Julia Roberts. He played a friend's song called "Bears," about which he said, "I never heard a song like that until I heard ... that song," and his explanation of the origins of his own song, "Penguins," was even funnier than the song itself.
Lovett was backed by his nine-piece string band, including mandolin, guitars, cello, dobro, bass and percussion. The arrangements were smooth and well-oiled without being slick, and Lovett allowed individual musicians to strut their stuff occasionally without getting too indulgent. No one would complain, however, about listening to cello solos by Lovett's longtime cellist, John Hagen, or mandolin breaks by the newgrass superstar Sam Bush, who also harmonized vocally on several tunes.
The group easily handled the stylistic transitions from hard country to jazzy, western swing to blues and country-flavored r&b. Some tunes were given orchestral arrangements that added nuance and drama, particularly "She Already Made Up Her Mind," a minor-key, moody, searing ballad portraying the break-up scene which was rendered starkly with huge, crashing crescendoes of drums and strings. Perhaps the night's highlight, it was Lovett at his best, making poetry out of pathos: "There is nothing so deep as the ocean/Nothing so high as the sky/Nothing so unwavering as a woman/When she's already made up her mind."
Warming up the crowd for Lovett was Nickel Creek, an acoustic bluegrass quartet ranging in age from 19 to a whopping 23. This young group, including brother and sister Sean and Sara Watkins, has actually been playing together for a decade, and their intuitive sense of dynamics shows. While they can play a high, lonesome breakdown as good as the next guy, they juice their bluegrass with a bit of rock 'n' roll syncopation.
From the sounds of "Across the Bridge," which veered into progressive territory, the musicians, who played mandolin, fiddle, guitar and bass, have been listening to David Grisman and Bela Fleck. Add Neil Young and Dave Matthews to the mix, as spiritual or melodic influences, and emphasize the groove, as they did, and you've got the makings of the next big bluegrass-rock crossover success.
Texas Bound Band of the Year
Lyle Lovett's Large Band is the 2001 Texas Bound Band of the Year. Backed by a supporting cast that numbers around 20 Lyle Lovett puts on one of the best live performances anywhere. An eclectic mix of horns, soul singers, and strings come together in a truly religious experience. Always dressed for success these musicians and singers are some of the finest at their craft and meld perfectly into Lyle Lovett's unique brand of style.